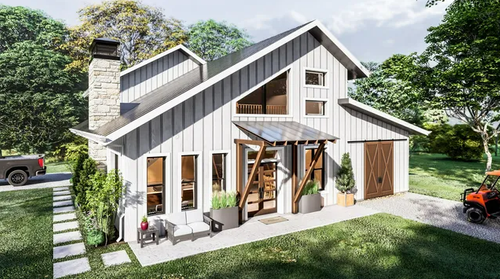 Leading Barndominium Designer in Oklahoma.
Looking for a home that offers ample living space, a workshop for hobbies, or an office for your business? Our team at Fry Design Co. specializes in designing custom barndominiums in Oklahoma. Our experienced team works with you to create a personalized home design that meets your every need, while our range of services ensures a seamless and stress-free process from start to finish.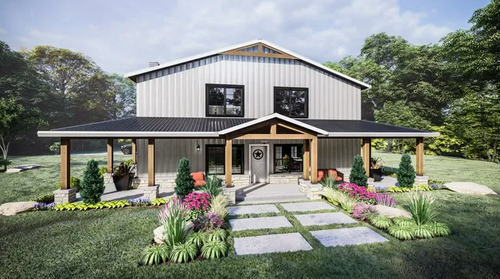 When Building It Right Matters
At Fry Design Co, we are committed to helping you build your dream barndominium in Oklahoma. We understand that there can be a lot of misconceptions around the process of building a barndominium, and we aren't afraid to challenge them. We will work with you to create a barndominium design that is both durable and within your budget, and we can help you find the right materials to make it happen.
We can also provide you with a custom floor plan for your barndominium and connect you with our trusted team of builders in Oklahoma to ensure that it all comes together perfectly. With Fry Design Co, you can feel confident knowing that your barndominium will be built to the highest standard and will be the perfect fit for your lifestyle.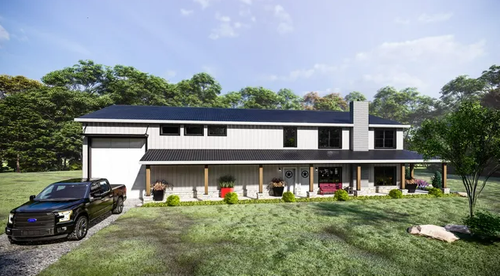 Barndominium Design Options
Premade house plans - Choose from our fully designed and beautifully functional collection of house plans, all complete with detailed floor plans, elevations, construction details, and other features. Whether you're looking for a cozy rustic style barndominium, a modern contemporary style, or something in between, we're sure you'll find the perfect plan to make your dream home a reality.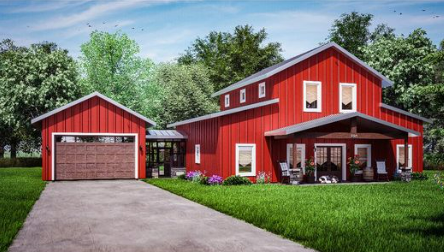 Custom barndominium home plans
Design a custom barndominium home plan that meets your specific needs, budget, and desires. We can help you research and explore different custom barndominium floor plans, designs, and features to determine the best layout and design for your needs. We will take everything into consideration, including your budget, the size of the structure, and the amenities and features you desire, such as bedrooms, bathrooms, a kitchen, a living area, and any outdoor features. Once we have determined the layout and features, we'll set you up with our team of professional barndominium builders to create the perfect home plan for you.
Why Choose Fry Design Co?

Comprehensive and Complete Construction Documents
Believe it or not, most designers and builders only want to give you a very limited set of plans by which your house is built. Don't fall into that trap! We will provide you with a full set of construction documents that accurately and completely illustrate your new barndominium.

3D Design, Renderings, and Real-Time Visualization
We emphasize rendering our 3D design models to have as much detail as possible so you can see, understand, and easily visualize the design of your new barndominium

Track Your Construction Costs During the Design
As we design your home, we are capturing, recording, and scheduling each building material type, quantity, and cost, so you are armed with the information you need BEFORE you begin building your dream house.

Master Planning of Your Entire Project
Receive expert design guidance beyond your barndominium base design, including pools, outdoor living spaces, landscaping, and other ancillary structures.
As a leading barndominium designer in Oklahoma, we at Fry Design Co. pride ourselves on delivering quality, comprehensive, custom barndominium services tailored to your unique needs and vision. Our team of experienced barndominium designers is dedicated to providing you with the highest quality services and results and will work with you to bring your vision to life. Contact us today, and let's bring your vision to life together!