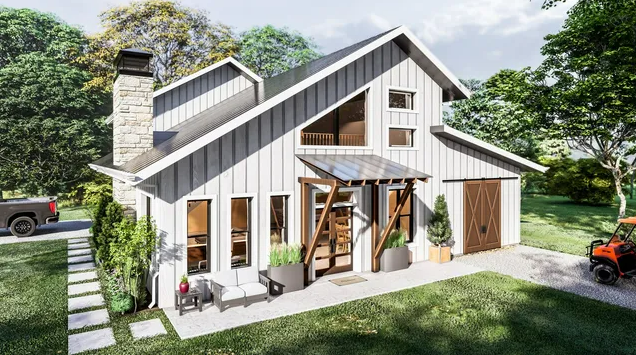 Our Most Frequently Asked Questions
Q: What is a Barndominium?
A: A barndominium is a unique combination of a barn and a condominium, where the inside has been converted into a living space. This type of home is gaining popularity for its rustic charm and efficient use of space. Fry Design Co is Oklahoma's most trusted barndominium designer, taking this one-of-a-kind concept and turning it into a beautiful and practical living space that fits your lifestyle. With years of experience under our belt, Fry Design Co can make your barndominium dreams a reality - from optimized floor plans to custom finishes — all while embracing the country-living vibe that makes these homes so special.
Q: Why Build a Barndominium in Oklahoma?
A: There are a number of reasons why building a barndominium in Oklahoma might be the right choice for you. Firstly, Oklahoma has a rich agricultural heritage that has seen a lot of barns constructed across the state over the years. This means that there is a lot of existing infrastructure that could be converted into a barndominium. Secondly, barndominiums tend to be more affordable to build than traditional homes, meaning that you can get more bang for your buck. Oklahoma's lower cost of living also makes it an attractive option to those looking to build a unique and affordable home. In addition to that, Oklahoma is known for its beautiful countryside, wide open spaces and natural beauty, making it a perfect location for those looking to embrace a country-living vibe. Lastly, Fry Design Co, Oklahoma's most trusted barndominium designer, has the experience and expertise to help you build the barndominium of your dreams.
Q: What are the four structural types of Barndominiums?
A: There are four common types of barndominium structures to consider when building your home: Steel, hybrid, post and beam, traditional stick-frame
Q: How much does it cost to design and build a barndominium in Oklahoma?
A: Depends on the project. But here are some considerations that play into cost:
We build significantly cheaper than stick-frame
Steel is now more expensive and harder to get. While this material is highly desirable for structural integrity, it does result in longer turnaround times.
Post and Beam provide the beautiful aesthetic of exposed beams; however, this option is usually associated with slightly higher costs compared to our hybrid options.
Hybrids are a great solution to minimizing costs and turnaround times compared to steel.
The biggest savings associated with building a barndominium is YOUR TIME.
Q: What is your most popular barndominium structural type?
A: The Post and beam hybrid barndominium structure is our most popular structure due to its functionality and desirable aesthetic.
Q: What is your Most popular Barndominium plan?
A: Our most popular Barndominium floor plan is PLAN 2400
4 bed / 2 bath. Barndominium
Q: How long does it take to get my Barndominium designed?
A: On average, it takes our team about 30-60 days to fully design and provide plans for your Barndominium in Oklahoma.
Q: How long does it take to build my barndominium?
A: On average, it takes 6-8 months to construct your barndominium in Oklahoma.