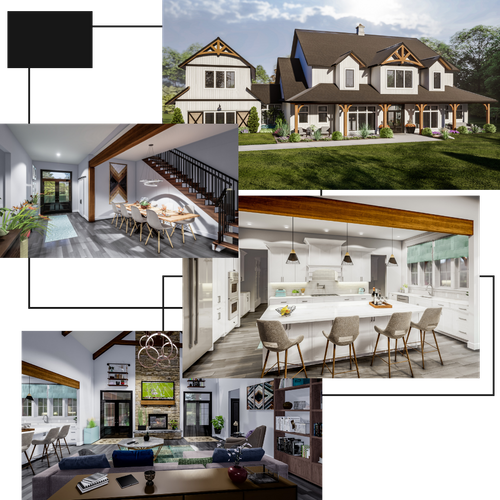 Frequently Asked Questions
Welcome to Fry Design Co.'s FAQ page. We're thrilled to answer your questions about our award-winning design firm. Our approach is centered around our clients, and we pride ourselves on surpassing every expectation and over-delivering, regardless of your budget. Whether you're a business owner or a homeowner, we're committed to providing personalized, comprehensive solutions to meet your design needs. Please feel free to look through our FAQ section for any questions you may have.
Our Most Frequently Asked Questions
Q: What is Fry Design Co.?
A: Fry Design Co. is a design agency in Guthrie, Oklahoma, that specializes in creating beautiful and functional design solutions for individuals. Our full-service design firm is renowned for its exceptional work in providing solutions for commercial and residential projects. We aim to be your advocate to help you design the home you've always wanted!
Q: Can you create a home design catered to my needs?
A: We are dedicated to assisting you in crafting a personalized living area that fulfills your home goals. Our team of experts offers professional advice and custom-tailored design services to ensure your space is functional, visually stunning, and within your budget. Expect nothing less than exceptional results that surpass your expectations.
Q: Isn't hiring a design professional expensive and time-consuming?
A: It's just the opposite! In our experience here at Fry Design Co, we have discovered that if we find out exactly what our customers want, we can cater to their financial and personal needs. Additionally, with a well-planned design, our customers never feel buyer's remorse!
Q: Can't anyone add design elements to a home?
A: The short answer is yes. However, not everyone has the expertise and experience that our staff at Fry Design Co. has. We are up to date on the latest trends and building codes, which means your house will not only be pleasing to the eye but will also be sturdy and structurally sound.
Q: What is your design process like?
A: Our design process involves four main stages:
1. Discovery Phase: By visiting the site and talking with you, we get to learn about your ideas and visions, which helps us create a plan.
2. Schematic Design: We create a design that brings your house dreams to life. This phase is completed within two to four weeks.
3. Design Development: In this phase, we really start to get our hands dirty by designing items for your home, including cabinets and fixtures.
4. Construction Documents: In the last step, all of the design decisions have been completed and discussed with the builder so that they understand exactly how the project is supposed to be set up.
Q: How do I get started on a project with Fry Design Co.?
A: To get started on a project withFry Design Co., simply request a complimentary consultation from our site. This contact form prompts you to tell us what design features you have in mind. We can use this information to assemble a team that will best be able to make your unique design dreams come true.
Q: How much does a design project with Fry Design Co. cost?
A: The cost of a design project varies depending on the scope of the project and the specific design services required. We provide custom quotes for each project based on our complimentary consultation and understanding of your needs. However, you can rest assured that we will work out a plan that makes you happy and stays within your budget!
Q: What is your turnaround time for design projects?
A: Our turnaround time for design projects varies depending on the scope of the project and our current workload. We work with each client to establish a timeline and keep them informed of progress throughout the project.